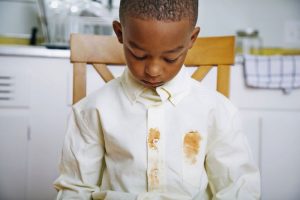 Everyone experiences an unpleasant feeling at the sight of an annoying stain on the favorite blouse or trousers, especially if because of this you had to part with a loved thing. But you do not need to immediately throw out clothes, because many stains are easy to remove even without the intervention of dry cleaners. They can be handled on your own. But you need to do this procedure with care not to spoil your favorite thing even more.

All the stains that can be found on our clothes can be divided into several types: stains that dissolve in water (stains from foods that contain sugar, stains from joinery glue, from water-soluble salts and from some water-soluble dyes); stains that are excreted by organic solutions (stains from fat, motor oil, varnish, resin, oil paints, wax, cream); stains that do not dissolve in water and organic solutions (stains from greasy paints, from tannins, from insoluble in water natural and artificial paints, protein substances, blood, pus, urine, mold).
Each kind of stains requires special treatment. Some stains, for example from coffee, fruit juice, wine, require treatment by means of water-soluble stains, as well as for insoluble stains.
Contents
Type of stains number 1: Grease stains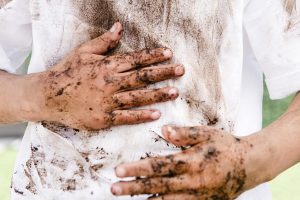 Spots of grease usually do not have clear boundaries. Fresh greasy spots are always darker than the tissue itself. Old greasy spots are shining and get a matte shade. They are deeply absorbed in the material and appear even on the back of the fabric. This will help you easily cope with the stain and not damage your favorite thing.
Here you will find recommendations how to get rid of grease spots without using the dry cleaner's services. Use simple methods mentioned here and you will be able to save your favorite clothes from grease stains rather quickly and effectively:
If you have a stain from vegetable oil, sprat and other oil cans, then they are easily removed with kerosene. After kerosene treatment, it is desirable to wash the cloth with warm water and soap.
A method of removing spots with chalk is very common. Stain the spots with chalk, firmly pressed against the fabric and leave it for the night. In the morning, brush the cloth. The spot will disappear.
The stain from fish oil can be removed with acetic solution.
Greasy stains on dense synthetic fabrics are best removed using potato starch. Apply starch to the stain, and then rub it with a warm wet towel. When the starch is dry, clean the cloth with a brush. If the stain does not come out completely, repeat the procedure again.
Stains from eggs should be removed immediately, as they then create insoluble compounds that are no longer susceptible to excretion. Fresh stains from eggs are removed with ammonia and glycerin.
Important: If you do not know what is the material of your clothes cut a small piece of fabric from the area with a seam and check the stain remover on it.
Back
Type of stains number 2: Stains from the dairy products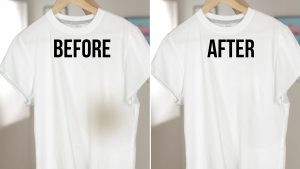 It is a common situation when we have stains from dairy products. No need to worry as it is quite easy to get rid of them using simple methods you will find here. There are tips how to remove stains from dairy products:
If the stain is on a white fabriс and it is large enough, it is best to wash it off immediately with warm soapy water and rinse.
If the fabric is colored, then the best way to remove the stain is by using a mixture of 2 spoons of glycerin, 2 spoonfuls of water and a couple of drops of ammonia. Spot should be moistened with this mixture, put between two cotton fabrics and ironed.
Important: If there is a stain on the colored woolen fabric, the stain is removed with the help of glycerin heated to 35 degrees. It is applied to the fabric for 10 minutes, and then washed off with soapy water.
Back
Type of stains number 3: Stains from chocolate, coffee, tea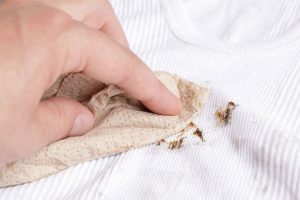 Who doesn't like having a cup of tea or coffee with a bar of chocolate? If you are one of those who can't resist having these drinks with chocolate candies, you should know how to remove this type of stains. There are useful tips how to remove stains from chocolate, tea and coffee without using the dry cleaners services:
If the white fabric is stained with chocolate, then the stain can be removed with hydrogen peroxide. The stained area should be soaked and left it for 10-15 minutes, then rinsed with cold water.
Stain from coffee and strong tea is removed with a brush moistened with warm water. Then the cloth is thoroughly washed in a warm soap solution. And rinse with a light vinegar solution.
On the light fabric such spots are removed by warmed-up glycerin. Lubricate the stain, and after 20 minutes wash with warm water and dry with a towel.
Important: Remember that it is always better to deal with the stain immediately. Fresh stains from chocolate can be wiped with ammonia, and then rinsed with strongly salted water.
Back
Type of stains number 4: Stains from alcoholic drinks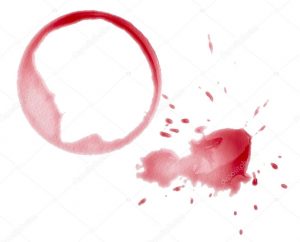 Wine, beer, champagne, liqueurs are an inevitable part of every important occasion. Either it is a wedding or a birthday party, nobody will want to have the dress being badly damaged with the alcoholic drinks during the celebration. If you have a stain from alcohol, you should follow the recommendations below to remove them instantly.
If the stain is on the white fabrics, it should be removed with a solution of 5g soap, 0.5 tsp. soda and a glass of water. Apply the solution to the stain and leave it for a day. Then rinse thoroughly with warm water. Such a stain can still be wiped off with a piece of ice.
The spots from beer are best removed with water and soap.
If the fabric is colored, then such a stain is removed with the help of glycine of a mixed ratio of 1: 1 with the egg. Another way to remove such stains is with the help of gruel from the table water: put it on the stain, and after half an hour wash with soapy water. And then rinse with warm water.
Stains from red wine can be removed with a solution of potassium permanganate, moistened with a soiled place, and then treated with hydrogen peroxide.
Important: The old alcohol spots can be cleaned with a mixture of glycerin, wine and ammonia in equal parts. The mixture is stirred with water in a ratio of 3: 8.
Back
Type of stains number 5: Stains from sweat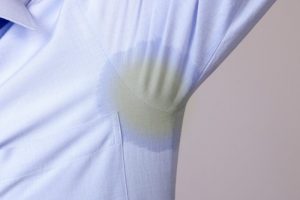 Sweat stains are the most common as it is natural to sweat during the day. But sometimes you may forget to wash your clothes the same day and then you will face a problem of old sweat stains, which look really bad for the fabric. That's why each person should know how to deal with sweat stains at home.
Remove such spots with a solution of hyposulfate. The cleaned place is then washed with warm water.
From silk fabrics such spots are removed by a solution of denatured alcohol and ammonia in a proportion of 1: 1.
Stains from sweat also go away if you add a little ammonia to the water when washing. A teaspoonful of ammonia is for a liter of water is helpful.
Important: Stains from woolen fabric are removed using a cloth moistened with a strong solution of salt. If the stains remain noticeable, then rub off with alcohol.
Back
Type of stains number 6: Stains from cosmetics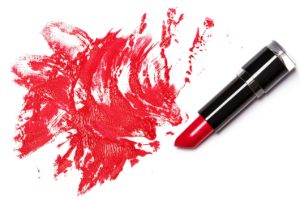 Stains from cosmetics are common for women. There is no a woman who has never had a stain from the lipstick. Here you will be able to find out how to deal with them.
The stain from the lipstick can be removed with the help of borax. Put borax on the spot, then rinse the fabric in soap and in clean water.
Stains from cosmetic creams are removed with alcohol or gasoline.
The stain from the hair dye is removed with a mixture of hydrogen peroxide and ammonia.
The stains from the varnish are removed with a napkin and acetone. It is advisable to apply a napkin to the spot and pat dry with acetone. Continue this until a complete removal of the stain.
Stains from cologne and perfume will disappear if they are immediately rubbed with alcohol. Old stains from white fabrics can be removed with a mixture of ammonia and hydrogen peroxide (1: 1). Spot from the perfume on the wool is first moistened with pure glycerin or wine, and then wipe with acetone or sulfur ether. The spot on light fabrics can be deduced in this way: first moisten with ammonia, then with a solution of hydrosulfite (4 g per glass of water), and after 2-3 minutes – with a solution of oxalic acid (5 g per glass of water).
Important: It is recommended to clean stains from cosmetics instantly as old stains are much more difficult to get rid of.
Back
Type of stains number 7: Blood stains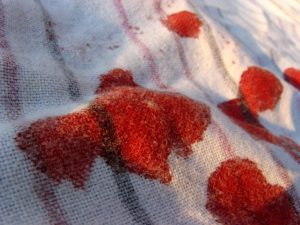 Blood stains happen to everyone at least one in life. Some think that the clothes have been completely damaged but it is no so. Blood, in addition to protein, contains non-protein nitrogenous substances (for example, amino acids, etc.), carbohydrates, fats and colorants. Follow the instructions below and you will succeed restoring your clothes.
First it is necessary to wash blood stains with cold water and then with a warm soap solution. Before washing the clothes with stains must be soaked for several hours.
The aged spots are first wiped with a solution of ammonia (1 teaspoon per glass of water), and then with a solution of borax (1 teaspoon per glass of water), after which the laundry is washed in warm water.
With fine silk fabrics, stains are removed with potato starch, mixed in dough on cold water. The resulting composition is covered with the surface of the stain and only then it is allowed to dry it. Then the starch is shaken off and the thing is washed.
Important: It is much easier to remove blood stains if you take the necessary measures immediately by placing the clothes with stain in cold water.
Back
Type of stains number 8: Stains from ink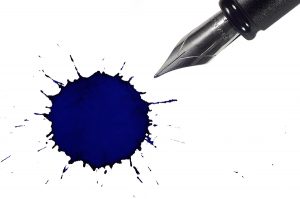 Ink stains are also very common, especially among schoolchildren and students. How to deal with the ink stains? There are a lot of methods to remove stains from ink:
Use glycerol: for this, the stained fabric is kept in glycerin for at least an hour, then the thing is rinsed in warm, slightly salted water. If there are traces, they are washed in warm soapy water.
Fresh ink stains can be removed with sour milk. You should put the cloth in warm milk for several hours. If the stain is large, you should change the milk several times. Then wash in warm soapy water, in which to add a bit of borax or ammonia.
You can use a solution of ammonia and baking soda (1 teaspoon of alcohol, 1-2 teaspoons of soda to a glass of water).
To remove stains from white fabrics, use a mixture of hydrogen peroxide and ammonia (1 teaspoon for a glass of warm water). The cotton wool soaked in the solution is applied to the spot, after which the cloth is washed with warm water.
Old aged ink spots on colored fabrics should be poured with a mixture of turpentine and ammonia (1: 1), and after the disappearance of stains, the entire product should be washed and rinsed.
Silk fabrics, stained with ink (black or red), cleaned like this: stains are filled with a mustard paste and left for a day, then the mush is scraped and rinsed clothes in cold water.
Fresh stains of red ink can be cleaned with a solution of ammonia, then rinsed in clean cold water.
From the skin, the ink stain is best removed with warm glycerine or a mixture of glycerin and denatured alcohol, which are rubbed into the stain. The discolored place is tinted.
Ink spots on leather things can be cleaned with salt. To do this, cover the stain with a thick layer of wet salt and leave it for two days. Then salt should be removed, wiped with a sponge or cloth moistened with turpentine, and polished to a shine.
When removing ink stains, it is recommended to use a protective circle of paraffin to prevent the stain from spreading. Do this as follows: melt the paraffin and petrolatum in equal parts, then wrap the cotton wool around the match and dip it into the hot alloy, wrap the protective paraffin circle so that the alloy soaks through the fabric. When the alloy has cooled, proceed to remove stains, after which the substance is sprinkled with baking soda and rinsed in water. Then the protective paraffinic circle is ironed with hot iron through blotting paper or paper napkins, which is changed several times until the paraffin is completely removed.
Removing the ink stain, potato flour is poured under it, which absorbs excess liquid and does not allow the spot to spread.
An ink spot from velvet can be removed by immersing a soiled area in warm milk for half an hour. Milk needs to be changed until the stain disappears, then it is washed in warm soapy water and rinsed.
If the ink spot is on the woolen fabric has dried up, it should be moistened with kerosene, after a while rinse it in clean kerosene and spread in clean water, then hang the thing to the wind so that the smell of kerosene will fade away.
Ink stains on silk and woolen fabrics can be wiped with cotton wool soaked with purified turpentine, replacing it several times as it gets dirty, then rinse with warm water.
For colored fabrics, a mixture of glycerin and denatured (2 parts of glycerin per 5 parts of alcohol) is suitable.
Important: From any fabric you can remove the ink stain immediately, if you pour salt on it and pour lemon juice, wait for the stain to disappear, and rinse the cloth several times.
Back
Type of stains number 9: Stains from hot iron
Sometimes you can notice that after ironing there are stains on the clothes. In this case the following methods will be helpful:
Wet the juice of onions and leave for several hours, after which the thing is washed, and the stain disappears.
If the stain is large, it should be removed with the gruel from grated onions. Leave it for a while, then rinse well in cold water. You can also moisten the stain with boric acid, and then stretch the fabric in water at room temperature.
With white fabrics, scorch marks are well removed with a mixture of half a cup of water, 1 teaspoon of hydrogen peroxide and a few drops of ammonia.
Important: In addition to the previously mentioned methods, burns from the iron can be moistened with water and sprinkled with borax.
Back
Type of stains number 10: Grass stains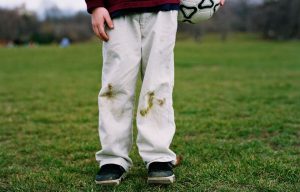 Denatured alcohol is one of the most effective method to remove stains from grass and other kinds of greenery. There are other ways to get rid of such spots as well:
Remove stains from grass with a solution of table salt (1 teaspoon per half a glass of warm water). After removing the stain, the fabric must be rinsed in warm water.
If the grass stain is one the white fabrics, such stains are removed with a 3% solution of hydrogen peroxide, to which a few drops of ammonia are added.
Important: If you have noticed grass stains after the walk you should remove fresh grass stains on clothing immediately with a warm soap solution, in which 1 teaspoon of ammonia is added per glass of soap solution.
Back
5 General Rules for Removing Stains
The chemicals that you use to remove stains are best tested first on a test piece of fabric, on filing for example. Do not use highly concentrated solutions. It is better to treat the stain several times with a weak solution, alternately washing the tissue with water.
Before removing stains, the fabric should be cleaned of dust, first dry, then use a damp brush.
Remove the stain from the wrong side by placing white paper or napkins under it, you can also use a plate wrapped in a white cloth.
Clean the stain best with a cotton swab or a soft white cloth. To begin with, moisten the area around the stain, then moisten the stain itself from the edge to the middle, so it will not fade.
Stains of unknown origin are best displayed with a solution of ammonia and salt.
Video