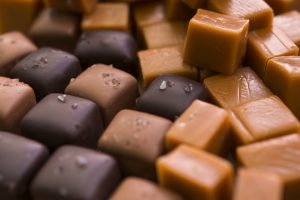 There is no such a person who doesn't love candies. Unfortunately, buying sweets somewhere can't provide you with the guarantee that you are eating a safe product. Good news is that you can make sweets at home using only natural ingredients. Moreover, this is a very interesting and enjoyable process, which will definitely attract attention of children eager to help. There is a collection of the best homemade candies' recipes, among which you can choose the most favorite one to your taste.

Contents
Recipe 1: Sugar Lollipops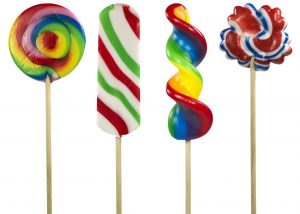 Lollipops are a well-known delicacy not only for children, but also for many adults. Without difficulty, they can be prepared at home – just from sugar and water. To slightly change the taste, instead of the usual water, you can use infusion of herbs: chamomile, thyme, sage, dog rose and some others. This makes lollipops even more tasty and even useful. Sweets based on herbs with the addition of ginger and lemon are able to cure the sore throat and relieve you of colds. So, in a moderate amount, homemade sugar candies are very useful! Not to mention the fact that there are no preservatives or coloring agents in them.
Ingredients:
Sugar – 1 glass,
Water – 1/2 cup,
Herbs (thyme, chamomile, sage and others to taste) – 3 tablespoons.
Lemon – 1/4 pcs.
Ginger fresh – to taste
Sugar powder – 3 tablespoons.
Preparation:
To begin with, pour the chosen herbs with hot water, add ginger and pieces of lemon. Let the broth brew for 20-30 minutes.
After the specified time, strain the brewed herbs through a strainer.
Pour the liquid into a saucepan and put sugar in. Put on a small fire. Pour sugar.
Wait for the sugar to completely dissolve, and the water will boil. Cook the syrup on a small fire for 30-40 minutes and admire the charming bubbles on its surface.
Boil tea with sugar.
During the cooking of the syrup, it is important not to lose sight of one necessary step: always add to the boiling sugar water some oxidizing agent to prevent the process of crystallization of sugar in the future. It can be either a tablespoon of honey, or a teaspoon of lemon juice. In addition, do not interfere with the mixture during cooking, in order to avoid getting caked sugar particles on the walls of the pan into the syrup. Or gently wipe the walls with a damp cloth, removing the frozen sugar.
Boil syrup.
The syrup was cooked, it's time to shape the lollipops. With a tea or a dessert spoon, carefully place the thickened caramel on a foil or parchment. Top with powdered sugar powder and leave the candies to cool and harden for about 20 minutes.
Sprinkle sugar candies. After that, carefully separate the candies from the surface and roll in powdered sugar.
Important: It is recommended to store homemade candies from sugar in dry conditions in a closed jar.
Back
Recipe 2: Chocolate candies from dates
Many of us like sweets, but if you read their composition, it leaves much to be desired. You are offered an excellent substitute – these are useful and tasty candies from dates. They are prepared very quickly and easily.
Ingredients:
Dates – 200 g
Chocolate bitter – 80 g
Oatmeal flakes – 15 g
Coconut – 15 g
For sprinkling: Coconut chips, Cocoa powder
Preparation:
In the pan, pour out the coconut shavings and oat flakes.
Pour coconut shavings and oatmeal.
Fry them until light blush on medium heat, stirring constantly.
Fry the dry mixture.
Pour the fried ingredients into the bowl of the blender, grind to a fine crumb.
Pour the dry mixture into the blender.
Pour dates, which were washed beforehand, dried and removed pits.
Add Dates.
Chocolate should be melt in any convenient way. Instead of bitter, you can take milk chocolate, but then the sweets will be much sweeter. Pour the melted chocolate into dates, grind it. Pour the chocolate.
At the output you will have a homogeneous thick mass, which slightly sticks to the hands. Beat the mass in a blender.
Proceed to the formation of date candy. From the received mass make balls with the size of a walnut. If necessary, moisten the palms with water.
Roll the balls out of the mass and roll balls in coconut shavings or in a small amount of cocoa powder.
Important: Spread out on a dish and put in the refrigerator for 40-60 minutes, during which time the candy will "grasp". Keep them in the refrigerator.
Back
Recipe 3: Toffee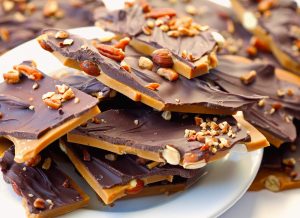 Ingredients:
sour cream 750 ml;
sugar – 500 ml.
Prepare the necessary ingredients for making sweets "Toffee". If you buy sour cream in a store, then take the one, where the fat content is at least 20%.
Preparation:
Combine sugar with sour cream and put it on a weak fire.
At the very first minute, sugar will begin to melt, and sour cream will change color.
Sour cream is fat – it does not stick to the sides, but it can burn out, therefore, it is not worth to leave the plate, it is necessary to stir periodically, but not constantly.
After 20 minutes, the mass begins to thicken. Continue to cook, stirring. The longer you cook, the more the mass will become more saturated yellow and become thicker and thicker.
The time for cooking candies can be adjusted to your taste: if you cook for 40 minutes, the toffee will be easy to drag, and if you cook for 1 hour, the candies will turn out to be denser. The ready mass is poured into molds.
Important: Forms do not need to be lubricated! Leave candies in the refrigerator for 20 minutes.
Back
Recipe 4: Homemade Rafaello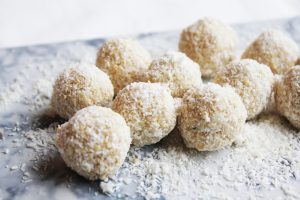 Rafaello is one of the favorite sweets of anybody. If you want to please your family and friends, especially on the eve of New Year's holidays, then prepare Raffaello at home. A beautiful box of these sweets can be a pleasant New Year's gift "instead of a thousand words" or a tasty and festive dessert. And let the whole world wait while you are enjoying their amazing taste.
To make homemade Rafaello you will need:
380 g of condensed milk;
250 g of coconut chips;
50 g of butter;
30 pcs. almonds;
pinch of vanillin.
Preparation:
Pour the coconut shavings into a deep bowl. Leave a little for sprinkling.
Add vanillin and melted butter to the coconut shavings, mix thoroughly.
Add condensed milk at room temperature, mix.
The resulting coconut mass should be sufficiently thick. Cover the bowl with a food film and put it in the refrigerator, preferably overnight (at least 7 hours).
In the meantime, prepare the nuts. Pour nuts with boiling water for 3-5 minutes, so the peel is easily removed.
Dry the nuts without the skin in a dry frying pan for about 3 minutes.
With slightly wet hands, pinch off a small piece of chilled coconut base for chocolates, put almonds in the middle and mold the "ball", which must be rolled in the remaining coconut shavings.
Important: Repeat the same for all the sweets, and then let Rafaello cool for at least 2-3 hours.
Back
Recipe 5: Spanish delicacy Turron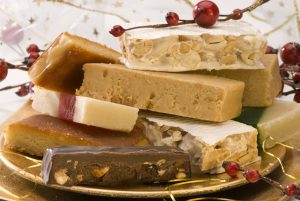 Spanish delicacy turron is a delicious dessert made of nuts and honey. In Spain, it is prepared by every family, especially at Christmas, as it is a traditional Christmas sweetness. However, in order to prepare it, it is not necessary to wait for Christmas. The reason can be any holiday and even just a "Turron" mood. In a word, there would be a desire, and an excuse to cook a Turron according to this recipe.
You are offered you a wonderful recipe for preparing a Turron from two kinds of nuts: almonds and hazelnuts. Just keep in mind that you cannot eat at once. The fact is that, although the Turron at home is prepared fairly quickly, before serving, it must be in the fridge for about a week. So, you need to prepare it in advance. And you can start right now!
Ingredients:
sweet almonds,
(450-500 g) types of natural Honey bee,
(300-350 g) sugar in cubes,
(200-250 g) of egg white
Preparation:
Take about half a kilogram of almonds, lightly fry in a dry frying pan, stirring constantly so that they do not burn, and then grind in a meat grinder or blender. Grind them not in flour, but in a fairly large crop. A small part of the nuts set aside (they must remain intact).
With a mixer or immersion blender, whisk 3-4 egg whites into the foam.
On the stove on a very slow fire bring to a boil 300-350 g of honey. It is very important not to make fire strong, because in the process of slow heating, excessive moisture will be left by the honey.
In the boiled honey pour 200-250 g of sugar and cook a little.
Whipped egg whites are poured into crushed almonds, and then this mixture is combined with sugar-honey mass.
Stir everything well and boil. Keep in mind that at this point you adjust the consistency of the turron: the longer the mass is cooked, the more moisture evaporates, and, accordingly, the turron will be denser (even stiffer). So, do not keep it on the stove for too long.
Pour a whole almond into the mass.
Cut into halves and quarters 100-150 g of hazelnuts.
Mix everything, remove it from the fire, lightly cool it, shift it into a non-stick shape and weave it. After that, the mass should be allowed to cool completely, and then put the form in the refrigerator for a week. To make the turron better compacted, you can use oppression.
Important: A week later, the Spanish turron will reach the desired consistency, and it can be served for tea or coffee.
Back
Recipe 6: Chocolate dessert with nuts and candied fruit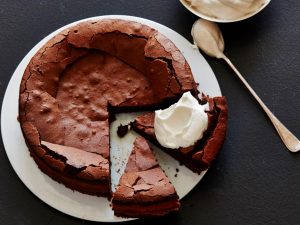 A quick chocolate dessert with nuts and candied fruits is a treat for the most desperate sweet tooth, because it really turns out to be very sweet. If you prefer a more balanced taste, use dried fruits (prunes, dried apricots, cranberries, cherries), and white chocolate – with milk or even black. In this case, the dessert will not be so sweet, but still stunningly tasty.
Ingredients:
White chocolate (200 g)
Butter (50 g)
Candied fruit (100 g)
Preparation:
On a slow fire or a water bath, sink the butter and broken white chocolate pieces.
Nuts chosen according to your taste are crushed (but not in flour) and are combined with pieces of candied fruit.
Remove the chocolate-oil mixture from the fire and pour nuts and candied fruit into it.
All thoroughly mix and lightly cool.
After this, the previously prepared form is lined with a food film (it can be replaced with parchment, but the film is more convenient) and pour out the dessert mixture into it.
Cool a little more, cover it from above with a film and place it to the refrigerator to freeze.
Important: The preparation will take no more than 5-10 minutes. However, it should freeze for hours. Therefore, prepare the dish in advance as it needs 3-5 hours to spend in the refrigerator.
Back
Recipe 7: Chocolate candies from peanut butter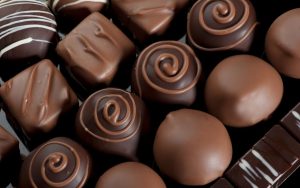 Ingredients:
Peanut Butter – 80 milliliters,
Butter – 10 grams,
Chocolate – 100 grams,
Sugar powder – 80 grams,
Crackers (cookies) – 50 gram.
Preparation:
Take crackers and crush them with a rolling pin or blender.
Add peanut, butter and powdered sugar.
Mix all these ingredients until you get a homogeneous, thick mass.
From the resulting mass form small balls with your hands. Then put the balls in the freezer for 20 minutes.
Next, chocolate is melted in a water bath or just in a microwave. In hot chocolate one by one, you should lower balls so that they are completely covered with chocolate icing.
Important: Let the balls cool to room temperature, and then put in the freezer for another 20 minutes.
Back
Recipe 8: Brazilian candies "Brigadeiro"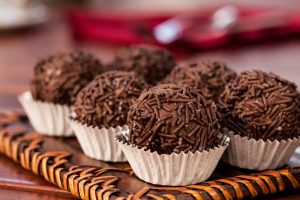 In Brazil, there is a wonderful treat reminiscent of chocolate sweets with stuffing. These Brigadeiro sweets are prepared from condensed milk. Favorite delicacy of the Brazilians. The recipe includes only 3 ingredients and can be prepared at home.
Ingredients
3 tablespoons cocoa powder without added sugar,
1 tbsp. butter,
1 can of condensed milk
Preparation:
Take a medium-sized saucepan,
mix cocoa, butter and condensed milk.
Cook, stirring, until the mixture thickens, for about 10 minutes.
Remove from heat, cool.
Roll small balls that you can decorate by different kinds of sprinkles (for example, coconut shavings, powdered sugar, chopped nuts, chocolate or colorful confectionery powders).
You can either eat immediately or put in the refrigerator for storage.
Important: The dough turns out sticky. Therefore, to facilitate your work, grease your hands with butter or put disposable gloves made of cellophane (not rubber).
Back
Recipe 9: Catalan candies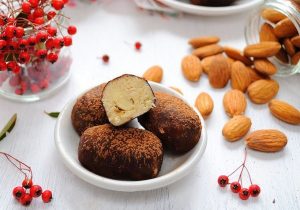 These candies are called Catànies, a Catalan brand, invented half a century ago by the Catalan confectioner Josep Cudié. Candies are amazing and can be successfully made at home.
Ingredients:
Chocolate white – 100 g,
Butter – 20 g,
Almond or hazelnut (plus 12-14 pcs for cores) – 100 g,
Sugar – 50 g,
Milk chocolate – 70 g.
Preparation:
Grind nuts in a blender.
Melt sugar in a bowl with a thick bottom (sugar quickly turns brown, you need to be careful and do not burn it).
In the hot sugar, add the nuts and mix.
Put on paper for cooling.
Cool the nut mixture in the blender to a fine crumb. Praline is ready.
Melt white chocolate with butter on a water bath.
Spoon the praline into a chocolate-oil mixture until the mixture is thick. If the mixture turns crumbly, add chocolate. If liquid – add ground nuts.
Form candies with hands. Inside every candy put a must-have nut. Put it in the refrigerator for 10 minutes.
Melt the milk chocolate.
Each candy is "to bathe in chocolate".
Important: You can decorate (this is optional) with white chocolate or roll candies in cocoa or sprinkle with grated waffles.
Back
Recipe 10: Marshmallow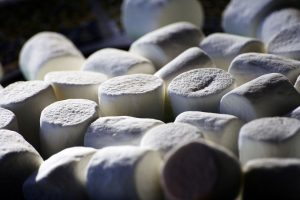 Ingredients:
Gelatin – 10 g,
Water (80 ml for syrup + 50 ml for gelatin) – 130 ml,
Sugar – 250 g,
Honey – 20 g,
Egg white – 3 pcs.,
Vanilla sugar – 0,5 tsp.,
Sugar powder – 50 g,
Corn starch – 40 g
Preparation:
Pour gelatin in a small amount of water and give a swell, if later there will be excess water, it should be strained.
Boil water in a saucepan, add sugar and honey, after the appearance of the first bubbles, cook over medium heat for 8 minutes.
While the syrup is being cooked, whip the whites in a persistent foam with a mixer.
Remove the syrup from the fire, immediately start whipping with a mixer, gradually adding proteins.
Add gelatin and vanilla sugar, continue to beat until the mixture cools, it only takes 2-3 minutes.
Pour into the form laid with parchment (can be divided into parts and tinted with juice or food colors) and put in the refrigerator for 2 hours to freeze (the mass will solidify, but will be very sticky).
Frozen preform to turn on the board, moistened with water or covered with food film, the outer side of the parchment slightly sprinkle with water and remove (it turns out surprisingly easy).
The knife is dipped in hot water and cut the workpiece into small pieces, roll the pieces in a mixture of starch and powdered sugar.
Candies are ready, they can be eaten immediately or stored up to seven days in sealed containers.
Important: Ready-made sweets can be dipped in chocolate glaze with the help of skewers, put on parchment before the glaze hardens.
Back
Video