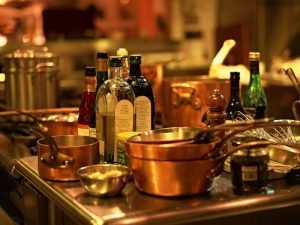 There are several types of eczema. The number of people suffering from this unpleasant disease is increasing every year. The exact cause of eczema hasn't been found yet. Some scientists are inclined to believe that eczema can be caused by a genetic predisposition. The other possible reason is the reaction of the organism to various irritants.
As it is known, the recurrence of the disease is often associated with stress, so the priority of the natural treatment is to reduce the emotional stress of the patient. For this purpose, various essential oils for eczema are used.  During acute eczema often nonsteroidal anti-inflammatory drugs are prescribed but they are not always helpful, moreover, they have side effects on the gastrointestinal tract. Therefore, they are used for a limited time. During this time, it is not always possible to remove inflammation and other symptoms of eczema. In this case, there is no better way to get rid of eczema symptoms than using essential oils. Here are the most effective essential oils that can be used for the treatment of eczema and its symptoms.
Contents
Recipe number 1: Bathes with essential oils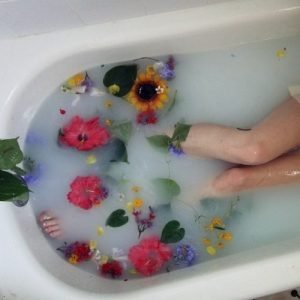 Follow the instructions:
Add 6 drops of your favorite essential oil to the warm bath.
It is possible to make a mixture of essential oils by mixing, for example, two drops of each of the oils of chamomile, rosewood oil, lavender or any other combination which you like
Take a warm bath
In order to get the desired effect, it is recommended to have a bath daily during 20-30 minutes.
Important: Essential oils can be mixed with additional carriers as a skin moisturizer before adding them to bath oils.
Recipe number 2: The cooling compress with essential oils
Mix 2 drops of chamomile oil,
Add 1 drop of lavender,
A drop of 1 immortelle oil.
Add oil mixture in a glass of cold water.
Important: It is effective to moisten a clean cloth and apply to the affected areas.
Recipe number 3: Cooling spray with lavender essential oil
Take a glass of distilled water,
add 10-15 drops of lavender essential oil
pour into a spray bottle.
shake before using.
Important: It is not obligatory to use lavender oil if you don't like it, it is possible to choose some other essential oil to your taste.
Recipe number 4: Moisturizing lotion with shea butter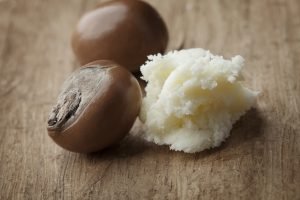 It is easy to make a lotion to moisturize the skin at home using these instructions:
Take 200-220 grams of shea butter (or coconut oil)
add 20 drops of essential oil.
add vitamin E.
Important: Vitamin E is not a must ingredient here but it will enhance the effect.
Recipe number 5: Massage oil with essential oils
Take a tablespoon of base oil carrier
add 4 drops of essential oil.
Try this combination: 2 drops of oil of eucalyptus and thyme diluted with oil of rose hips. You can choose your combination that is pleasant or suitable for your skin. This oily mixture can be used as a cream.
Important: Apply it several times a day to the affected areas.
Recipe number 6: Oil spray moisturizer
Mix 12 drops of lavender oil,
Add tea tree oil,
Add rosemary and clove oil
Take 100-110 grams of some base oil carrier, for example, olive oil
Pour this mixture into the spray bottle.
Important: This oil spray is considered very effective for eczema treatment in case of daily usage.
Recipe number 7: Cream with Essential oil of Geranium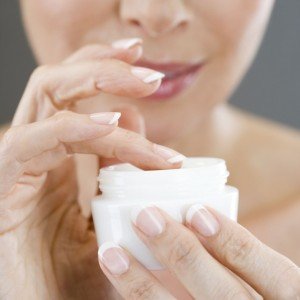 It is easy to prepare natural cream at home using the following ingredients:
Shea butter – 0.5 cups (or coconut)
Essential oil of Geranium – 20 drops
Cedar essential oil – 30 drops
Lavender essential oil – 20 drops
Follow the recipe: first melt butter and cool it to 35 – 40 degrees (not higher). The main thing is that the oil should remain liquid. Then add the essential oil and mix. Pour into a clean jar with a lid and leave to pour. Apply the cream 1-2 times a day.
Important: This cream is also suitable for children in the absence of allergy to the components of the ointment.
Recipe number 8: Cream with Lavender essential oil
This recipe is recommended for those who suffer from the weeping eczema.
The list of ingredients:
Shea Butter – 60 grams (about 4 tablespoons)
Lavender essential oil – 15 drops
Frankincense essential oil – 15 drops
The essential oil of myrrh – 15 drops
Chamomile essential oil – 10 drops
Vitamin E – 1 tsp
Melt the shea butter in a microwave oven or a water bath. Remove and cool. Add essential oils and vitamin E and mix. Pour into a clean jar with lid.
Important: It is recommended to apply the cream to the affected areas on the daily basis in order to get the effect as soon as possible.
Treatment of eczema can be difficult and exhausting. You may have to try a lot of recipes before you find the one that is right for you. Treatment of eczema with essential oils is the safer and more effective way than the use of steroids and hormones.
Back
Video