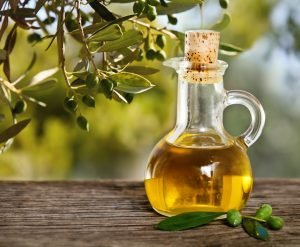 Masks with olive oil will be useful for any hair. No matter what is your hair type this oil will be good for your hair. Greasy hair, dry hair, mixed hair or even dyed hair will benefit from olive oil masks. Olive oil cures significantly not just hair but also scalp. Hair will grow magically thicker and quicker, you will even prevent hair loss problem and provide great nutrition and protection for your hair. Such treatment is perfect seasonal cure for hair when it needs support because of weather conditions.
Make olive oil masks regularly and you will quickly forget about hair dryness and hair loss. Let's see what ingredients can be used with olive oil in order to provide best for hair health. How to use olive oil, what benefits it can bring and how to prepare homemade olive oil hair masks we will investigate here.


Contents
The first mask: Pure olive oil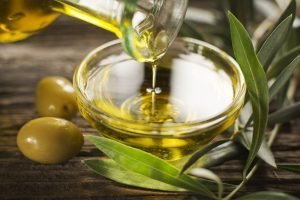 This simple mask from single ingredient is best rehabilitation treatment for your hair. It is very important to use high quality olive oil without any additives. If you have an opportunity to buy olive oil from the producer you know do it or ask someone who is traveling to Greece for a vacation to bring you few liters of fresh pure olive oil. Why olive oil and not some other oil?
Olive oil benefits
Unsaturated fats.
Vitamins A, E, D and K.
Antioxidants.
Linoleic acid.
Phenols.
For this simple but very powerful mask you need slightly to warm up oil. Some would rather save time and do it in the microwave. However try to avoid using microwave unless you are not having extra 5 minutes of time. The amount of oil for the procedure depends on your hair length. If you feel that you cannot evenly cover all your hair add a bit more.
How to apply
Implement on dry or slightly wet hair.
Rub oil into skin and hair.
Spread evenly over the hair, especially if you have split ends.
Gather all hair and cover it with foil or scarf.
Make a cup of tea and enjoy procedure for 30-40 minutes.
Excess oil can be wiped with paper towel. After the procedure just wash hair using a bit of your usual shampoo. Touch your hair and check if it is washed properly. Oil can leave marks all over your pillow or clothes so be careful.
Advice: You can also drink 1 full teaspoons of olive oil a day and you will also improve your hair from the inside.
The second mask: Olive oil and jojoba oil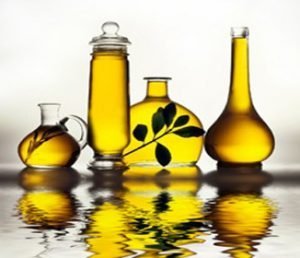 Also olive oil can be an excellent base oil for any hair masks. When you prepare mixture of oils and cure your hair with such mixture you double the amount of nutrition and beneficial vitamins your hair is getting. So basically combination of olive oil and jojoba oil will revitalize hair and improve its beauty. The quality of oil is very important for us.
Mix 1-2 tablespoons of extra virgin olive oil with same amount of jojoba oil. This combination of oils moisturize hair and cures hair roots. Implement hair mask the same way as mask from pure olive oil. If your hair is very dry, damaged and brittle use slightly bigger amount of oils. If you will repeatedly implement this mask twice a week for 2 months your hair will look significantly healthier, shiny and recovered. After such treatment make a break and do not treat your hair with masks for 3 months.
Advice: Adding 50 ml of jojoba oil to your shampoo bottle will significantly improve its qualities and you will forget about brittle hair.
The third mask: Olive oil and eggs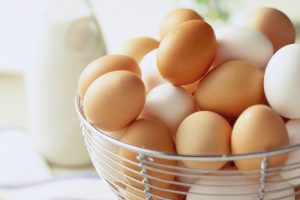 In order to improve condition of your hair no need to spend the fortune in expensive beauty salons. Solve the problem with dry split ends at home with homemade mask prepared from olive oil and eggs (use yolks and whites). Chicken egg is a natural source of vitamins and minerals for hair. Eggs were used in hair cosmetics for centuries because they are extremely good for our hair.
Benefits of eggs
Vitamins A, B, B2 and D.
Amino acids.
Mineral salts.
Lecithin.
Cholesterol.
High level of proteins.
Large amount of these benefits helps to recover damaged hair and make it silky and shiny again. Use hair mask with olive oil and eggs to stimulate hair growth, prevent split ends and nourish hair roots.
How to apply
Take 2 eggs and whisk them into foam.
Add 2 tablespoons of olive oil.
Apply on the wet hair along the length and on the roots.
Use rubber or polyethylene cup for this procedure.
In 1 hour rinse mask with cool water and wash hair with shampoo.
Apply such hair mask at least once a month. Thanks to combination of olive oil and eggs our hair is recovering very quickly. Hair looks healthier and split ends do not appear.
Advice: Rinse this hair mask only with room temperature water. If you will use hot water mask will stick to hair so it will be very difficult to wash it off.
The fourth mask: Olive oil and honey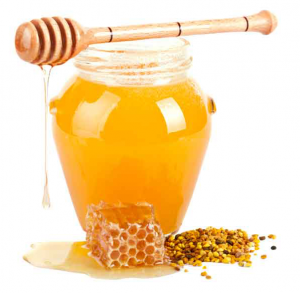 Mistakenly most of us assume that hair mask with honey and olive oil is suitable only for dry hair. This combination of ingredients is effective also on weak, damaged, brittle hair with split ends. Thanks to combination of oil and honey this homemade hair mask will make hair strong and healthy by providing all the essential vitamins for hair. Hair will benefit from roots till ends.
In fact masks with olive oil and honey will be great treatment for greasy hair. Honey in addition to its nutritional properties can cleanse and remove the excess fat secretion from scalp. Olive oil is also not only curing hair but additionally normalizes the process of sebum creation (main reason of greasy hair).
How to apply
Mix in the bowl 2 tablespoons of olive oil, 1 tablespoon of honey and 1 teaspoon of aloe (aloe is optional).
If you are using aloe always use it fresh by breaking one leaf every time and extracting pulp immediately before the procedure.
Mixture is applied on the hair (from roots till ends).
In 30-40 minutes remove mask using not hot water and tiny amount of shampoo.
It is recommended to make this procedure after washing your hair. Cosmetics on your hair prevent it from absorbing all the nutrition.
This mask is great recovery treatment for dyed and damaged hair. Make sure your mask is a bit warm. Consistency should be thick, but if it is getting too thick and uncomfortable to apply add a bit of green tea.
Advice: Always search for natural honey. Do not use for hair masks honey from supermarket as it is not even close to natural honey qualities.
The fifth mask: Olive oil and sour cream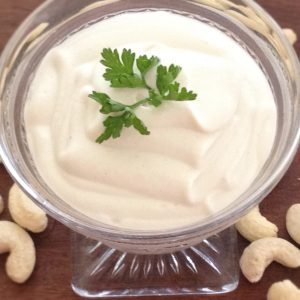 Sour cream and olive oil are great team which will improve look and condition of your hair. Sour cream is rich in plenty of essential for hair vitamins and needed for health minerals due to which it is capable of recovering even heavily damaged hair.
Benefits of sour cream
Vitamins A, B, C, D, PP.
Phosphorus.
Calcium.
Potassium.
Sodium.
Magnesium and many other minerals.
Add to this list benefits which olive oil has and now you understand why this combination is so popular hair mask. This mask is great remedy for dry, curly or dyed hair. Curly hair can be a challenge to keep looking healthy, silky and shiny. When weather conditions are making our hair to look like we haven't washed it for months this hair mask is really saving us.
How to apply
Take 1 avocado, 3 teaspoons of sour cream and olive oil.
Mix everything with whisk or blender.
Mask shouldn't be too thick. It should be creamy and easy to apply.
On wet hair apply mask and leave for 25-35 minutes.
Remove mask using some regular shampoo.
Such hair mask is absolutely harmless. It doesn't contain any chemical additives and cannot cause allergies. When you use homemade hair masks do not expect magical results after first procedure. However after 10 procedures of consistent use such hair mask will make hair shiny and soft.
Olive oil in a combination with sour cream is a very effective treatment of hair loss. It provides hair with nutrients needed for health and growth, provides nutrition to the scalp and hair follicles. In addition it helps to get rid of the itching due to excessive dryness of the skin.
Advice: Do not use on dyed hair as sour cream can wash off color from hair.
The sixth mask: Olive oil and beer
Beer is very long time used in different beauty remedies. You can find shampoo and conditioners with beer in your drugstore. This beverage is rich in copper, phosphorus, potassium, magnesium and even iron. Due to such qualities beer together with olive oil is recommended for weak, damaged hair or even as a treatment of hair loss. Beer also contains vitamin C and it is why it can improve condition of follicles and scalp.
Beer can be used instead of hair conditioner. Just rinse your hair with beer after each wash and you will notice that hair is shiny and easy to comb.
Follow these rules when you use hair masks with olive oil and beer
Apply on prewashed hair.
Use light beer for light hair color and dark beer for brunette hair.
In order to achieve maximum possible positive result cover hair with rubber cap or polyethylene and towel on the top.
Rinse mask off with warm water.
After the procedure let your hair to dry naturally. Do not use hair drier.
Apply mask twice a week.
Optimal amount of procedures is 10-12.
These recommendations will help you to achieve better results and to enjoy each procedure as if you are in hands of professional. If you will avoid hair cosmetics, hair dryer and other hair tools along with use of homemade hair masks you will notice how your hair will recover during such vacation.
Take 50 ml of olive oil and 100 ml of beer. Warm up mixture and apply on wet hair. Leave it on hair for 30-40 minutes. Yeast (one of the beer components) normalizes the production of sebum and your scalp will feel better after the course of such masks.
Advise: Do not worry about smell. Beer smell will evaporate very quickly.
The seventh mask: Olive oil and coffee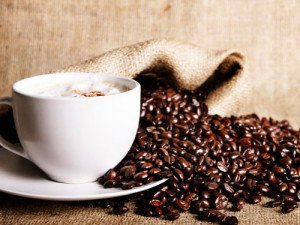 This combination is excellent for revitalizing the hair. Better use freshly grinded coffee. If you will have some left coffee use it for your morning cup of coffee or scrub your skin in the shower. Coffee provides cleansing effect, gives hair shine and makes it look healthier and brighter.
How to apply
Take olive oil and grinded coffee (in equal proportions).
Mix well and add few drops of lemon or orange essential oil. This is optional.
Apply on your hair and massage your scalp.
Keep it on the hair covered with the towel for 25-30 minutes.
Rinse after the procedure.
It is recommended to make such procedure once a week. This mask is known as a recovery treatment. Make such treatment in the evening and enjoy your beautiful hair in the morning.
Advise: Do not use remedies with fresh coffee for blond hair. This hair mask can give some color so it is only suitable for dark hair.
Back
Video