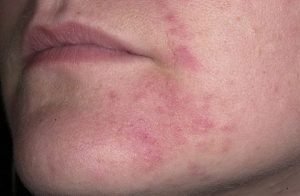 Eczema, a condition that derives its name from the Greek word "to boil," encompasses various forms of skin inflammation. It can manifest on different parts of the body, including the hands, feet, knees, elbows, cheeks, and forehead. When addressing eczema, it's important to note that many highly concentrated volatile essential oils and plant extracts cannot be applied directly to the skin; they require dilution with a suitable base oil. These carrier oils, often derived from nuts and seeds of plants, not only facilitate safe application but also offer valuable therapeutic properties. When exploring treatments for eczema with essential oils, finding the right eczema face cream can be a beneficial approach.


Contents
Oil number 1: Olive oil
Olive oil is rich in antioxidants, moisturizes for irritated, dry and sensitive skin. To enhance an effect, it is possible by adding vitamin E which is one of the most powerful antioxidants being able to help the skin to heal and restore suppleness and rejuvenate the skin.
To treat eczema it is recommended to apply the following mix:
30 grams of base oil (about two tablespoons)
12 drops of essential oil.
Olive oil can be used successfully to get rid of eczema symptoms in two ways:
as the basis of aroma procedures
as the means for massage.
This olive oil massage will not only remove the tension, but also provide a beneficial effect on the regeneration of the skin. Furthermore, olive can increase the life expectancy of skin cells by 20% and reduce its actinic particles due to its composition:
vitamins,
minerals,
acids,
moisturizing element squalene.
Important: Before use, make a test on a healthy skin area. Although olive oil is hypoallergenic, individual reaction of each person can never be predicted.
Oil number 2: Coconut Oil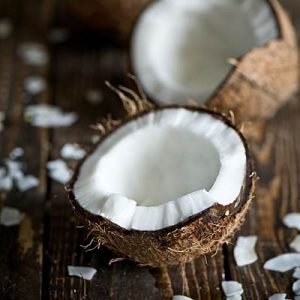 Fatty acids of coconut oil have the following properties which are perfect for eczema treatment:
anti-bacterial,
antiseptic,
antiviral,
anti-inflammatory.
These properties are excellent for moisturizing and healing of damaged skin. One hundred percent coconut oil for eczema can significantly reduce the risk of infections at the affected area of the skin, thereby facilitating and accelerating the healing process of the patient. Coconut oil opens the pores, which helps to detoxify and cleanse the body, as the skin begins to fully breathe and remove toxins – ideal for people leading a healthy lifestyle.
Coconut oil is also an excellent remedy to massage the skin in general. It acts as an intensive moisturizer for all skin types, including dry skin. The use of coconut oil for the skin benefit is comparable to mineral oil. However, unlike mineral oil it has no deleterious side effects. Thus, coconut oil prevents skin dryness and flaking without causing side effects. It also inhibits the formation of wrinkles and sagging skin aging. Coconut oil helps in the treatment of psoriasis, dermatitis, eczema and other skin diseases, so it is used as a basic ingredient in a variety of skin care: in soaps, lotions, creams. Coconut oil has wonderful antioxidant properties that protect the skin from free radicals.
Important: Check whether you have an allergy to this oil.
Oil number 3: Jojoba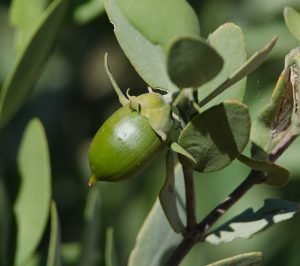 This oil is also good for the eczema treatment due to the following properties:
it is very soft,
it does not irritate your skin,
it is suitable for dry and sensitive skin.
Regular use of jojoba oil helps to rejuvenate tired and sagging skin, remove wrinkles and pre-empt the emergence of new ones.
In cosmetics and dermatology jojoba oil is widely used both alone and in mixtures with other fatty and essential oils.
It is used for minor injuries, cracks, sunburn, acne, sealing the palms, elbows, soles of the feet.
Jojoba oil soothes itching and painful symptoms for dermatitis, psoriasis, eczema. Jojoba oil is a liquid wax which has properties similar to our dermal fat.
Important: It is obtained from the seeds of the jojoba (or jojoba or Simmonds Chinese) – Simmondsia chinensis.
Oil number 4: Evening primrose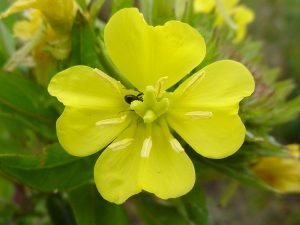 Evening primrose oil is able to:
reduce pain,
remove swelling,
reduce redness and itching of the skin.
In addition to the therapeutic properties evening primrose oil has a positive effect on dry flaky, sensitive and allergic mature skin with aging signs, nourishing, softening and moisturizing properties. Regular use allows to keep the skin moisturized rate at an optimum level, remove flabbiness, improve skin elasticity, eliminate different age and liver spots.
Evening primrose oil is ideal for sensitive skin, eliminating the negative manifestations in the form of irritation, inflammation, redness, itching, dryness and peeling. This is an excellent remedy for the treatment of skin diseases, including psoriasis and eczema. Evening primrose oil is also recommended for use in the treatment of skin diseases which are accompanied by dryness, redness, itching of the affected areas, it is particularly effective in the treatment of eczema and psoriasis, it instantaneously eliminates unpleasant symptoms of itching and redness.
For nutrient, emollient, restoring and rejuvenating effect of evening primrose oil can enrich your favorite night cream (at a one-time use enough 3-4 drops). Therefore, it is recommended to add to the finished cosmetic products and connect with natural oils, the most preferable for your skin type.
Important: It is not advisable to use primrose oil in its pure form (with the exception of areas of flaking, inflammation, eczema, age spots), because it stimulates the secretion of the sebaceous glands, which can eventually cause an increase in the fat content of the skin.
Oils number 5: Shea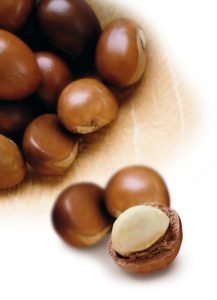 This wonderful oil was mentioned in the time of Cleopatra. Until now, in the heat of Africa, shea butter is used to protect skin and hair from the sun and dry wind of the African deserts and savannah.
Due to its use the skin of the African residents is elastic and clean, and despite the climate, they have a very low percentage of the prevalence of skin diseases, in contrast to other nations. African children still in infancy experience the beneficial effects of shea butter. Vitamin A in butter is very good for wrinkles, eczema and dermatitis. In addition, the known positive effect of a cream based on shea butter is from insect bites, sunburn, frostbite, allergic manifestations, and for wound healing.
Vitamin E in Shea Butter – this anti-aging agent is acting against free radicals, improving microcirculation. Good microcirculation is a good supply of the skin with nutrients and antioxidant protection – a protection against the damaging effects of UV light and the environment.
Shea butter is used for efficient eczema treatment due to the following properties:
it is rich in vitamin A,
it perfectly moisturizes skin,
it revitalizes the skin well.
Important: The shea butter can be used for massage successfully
Oils number 6: Avocado oil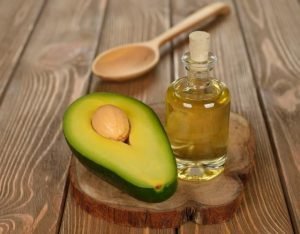 Avocado oil rich in vitamins:
Avocado oil also contains several amino acids and fatty acids that help in the treatment of skin diseases. It has the following effects: moisturizing, regenerating, protective, anti-inflammatory, anti-aging.
It is accepted by any type of skin very well because its composition is close to human skin fat.It is easily absorbed into the skin without leaving a greasy residue.
Actively regulates the exchange of prostaglandins and has high anti-inflammatory and regenerative properties for the skin and hair.
Important: Avocado oil can be combined with shea or baobab oil as well.
Oils number 7: Linseed oil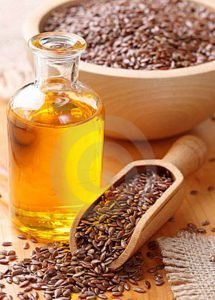 Many people have heard about the miraculous properties of the olive oil, so some patients may ask if eczema can be treated successfully with the linseed oil as well. It fits great as a basis for aroma because of its physical qualities (moisturizing, absorption rate) and medicinal properties.
Linseed oil is very valuable for the human body due to its rich composition:
Fat: omega-3 (60%) of Omega-6 (20%) of Omega-9 (10%), saturated fatty acids (stearic, palmitic and myristic);
Vitamins: Vitamin A, Vitamin B1, Vitamin B2, Vitamin B3 (PP vit.) Vitamin B4, Vitamin B6, Vitamin B9, Vitamin E (choline), the K vitamin, Vitamin F;
Macro- and trace elements potassium, phosphorous, magnesium, iron, zinc.
And besides them:
linamarin,
phytosterols,
Ckvalen (8%),
thioproline,
lecithin,
beta carotene.
Important: Take into account that attempts to treat skin problems by oral intake may have negative consequences due to the fact that omega-6 content is several times higher than the content of omega-3 and both fatty acids are extremely unstable.
Oils number 8: Rose oil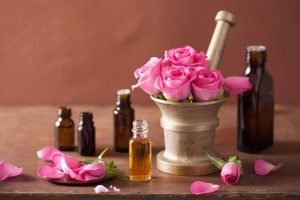 Rose oil was used in traditional Chinese medicine, India, Assyria, Egypt, Greece and Rome, to treat a wide range of diseases.
Sweet floral scent of rose is uplifting and many people consider it to be one of the best anti-depressants. Rose oil main characteristics that can be used for skin treatment:
It contains Eugenol,
It can be used as an anti-inflammatory agent.
Rose oil has good anti-inflammatory properties. It is suitable for the treatment of skin diseases, including eczema as well as healing wounds.
Important: It can be effective in reducing the enzyme COX-2 to 30 percent.
Oil number 9: Bergamot oil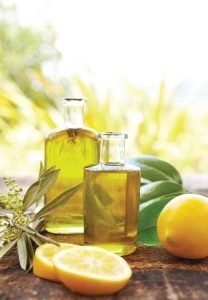 Bergamot essential oil is an excellent antiseptic that cleanses wounds and prevents infection. Eczema – a skin disease in which the epidermis becomes inflamed and irritated. Thanks to this oil, which has healing properties, eczema is treated well enough: you need a glass of warm water with two drops of juniper and bergamot oil and soak a piece of cloth with the water. Put it on the affected skin and leave it for twenty minutes. This procedure should be carried out once or twice every day. Bath with this oil has healing properties, it not only relieves a variety of inflammation, but also has a general beneficial effect on the skin of the whole body.
Bergamot oil also has many useful properties, in particular anti-inflammatory. It can be used as an antidepressant.
As the study showed, bergamot oil can:
reduce inflammation,
reduce COX-2 up to 21 percent.
Important: Bergamot oil is one of the most commonly used for eczema treatment.
Oil number 10:   Chamomile oil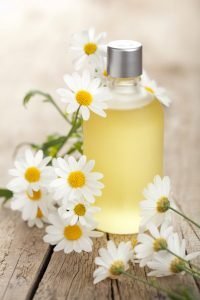 For modern medicine chamomile is one of the most valuable medicinal plants.
Rich chemical composition of plants defines a wide range of its pharmacological properties. Chamomile oil has: antiseptic, antibacterial, anti-inflammatory, wound healing, analgesic effect. Both types of essential oil of chamomile, Roman and German, also have anti-inflammatory properties. This oil can be used topically to relieve:
eczema inflammation,
edema.
To achieve the better results Chamomile essential oil can be successfully combined well with oils such as Bergamot, Bigard (bitter orange), geranium, cypress, lavender, Petitgrain, Rose and Rosewood.
Important: Chamomile oil is well-known for its sedative and calming effect.
Back
Video