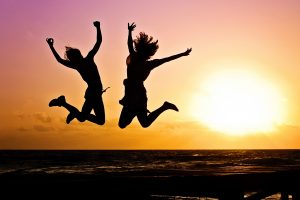 How to improve mood? Everyone asks this question at some period of life. But very few people know that there is a number of products with which you can raise your spirits. One of the main mood regulators is serotonin, it is often called the "hormone of happiness." It is a chemical substance that can affect the brain, which improves mental activity, increases resistance to stress and a sense of well-being. In the body, serotonin is formed with the presence of the amino acid tryptophan.

A person gets it with food. Not only does the amount of tryptophan matter, it is important what products it enters the body with. Many amino acids compete with each other, but they help quickly to absorb vitamins and minerals. Tryptophan is easier to digest with carbohydrates, zinc, magnesium and B vitamins.
We suggest you familiarize yourself with 5 products, which are able to improve the mood successfully. Follow the instructions and cook the recommended dishes to be in high spirits always.
Contents
Product number 1:  Fish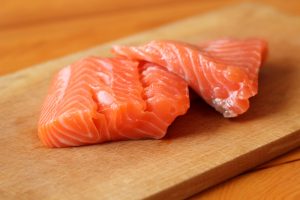 This is a real "cure" for a bad mood. Oily fish is enriched with omega-3 fatty acids. Most of this component is in the products of weak salting. Tryptophan is stored in fish of any preparation.
Due to its useful properties, this product helps to:
relieve nervous tension,
restore the brain after a tiring work.
It is recommended to eat salmon, cod, herring, tuna and mackerel to improve mood. Occasionally you can eat canned fish.
Recipe: Tuna with apple sauce
Ingredients:
600 g of tuna,
2 apples,
2 stems of leek,
2 tablespoons butter,
1 glass of dry white wine,
2 tablespoons sour cream,
Salt and pepper
Step 1. Cut the fish into portions, season with salt and pepper.
Step 2. Cut the white part of the stems of leeks in slices, and the apples peeled off the skin and seeds, with slices.
Step 3. Put onions and apples in oiled saucepan, put tuna pieces on top.
Step 4. Pour in the dry white wine and a few spoons of water. Bring to a boil on the stove, then put in the oven.
Step 5. Stew for 20 minutes. Then put the fish on the dish.
Step 6. Stir the sauce, season with sour cream and butter. Salt and pour this sauce with fish.
Important: The weekly amount of fish in the diet should be approximately 600 g.
Back
Product number 2: Dark chocolate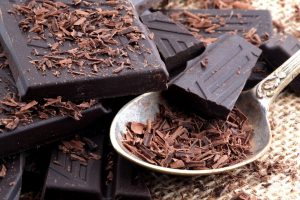 In cocoa beans there is a lot of phenylethylamine – a substance that contributes to the production of endorphins in the human body. It is in black chocolate that resveratrol is present, which acts as an antioxidant. Together with serotonin they can improve mood. Serotonin acts as an antidepressant. And if you happen to have any troubles, eat dark chocolate – this will help to cope with depression. Chocolate contains theobromine. Theobromine, caffeine and other substances that are present in dark chocolate act as stimulants. This is another point for raising the "mood".
Due to the production of nitric oxide, thanks to dark chocolate flavonoids are produced, which in turn help reduce blood pressure and help balance certain hormones in the human body.
Recipe 1: Homemade bitter chocolate
To make homemade bitter chocolate you will need:
125 grams of cocoa powder;
75 grams of cocoa butter;
honey or sugar to taste;
50-100 grams of nuts to your taste.
Step 1: Prepare the molds for chocolate. Put the nuts you have selected in them.
Step 2: Melt the cocoa butter. It is best to do this in a water bath.
Step 3: Add the cocoa powder to the melted butter and put the resulting mixture on a weak fire.
Step 4: Stir the resulting mixture to homogeneity, then add honey or sugar.
Step 5: Stir liquid mass until the sugar or honey dissolves completely.
Step 6: Pour the resulting mass into molds and allow to cool to room temperature. Then put in the fridge so that the chocolate is completely frozen.
Recipe 2: Chocolate with butter
If you have not found the cocoa butter, you can replace it with creamy butter. The composition of homemade bitter chocolate without cocoa butter is as follows:
about 50 grams of butter;
100 grams of cocoa powder;
a teaspoon of sugar.
The way of making homemade bitter chocolate according to this recipe is very similar to the first recipe:
Step 1: First of all, you need to melt the butter in a water bath.
Step 2: Add the cocoa powder and sugar to the butter, stir until a uniform consistency and cook for another two minutes. Do not forget to stir constantly.
Step 3: Pour the finished chocolate mass into the molds and let it cool.
Important: It is recommended to eat 30 g of black chocolate daily.
Back
Product number 3: Nuts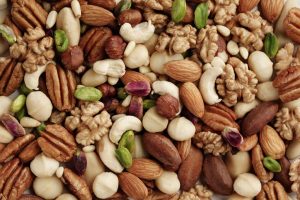 They are saturated with:
fatty acids (omega-3),
vitamin B6,
as well as other products, including the amino acid tryptophan.
Improving the emotional state is promoted by the mineral of selenium, which is contained in nuts. In blood, the level of selenium decreases as a result of aging, so this product is a must product for older people.
Recipe: Porridge with Nuts
Ingredients:
5 glasses of milk,
½ cup semolina,
500 g of nuts (hazelnuts, cedar, walnuts),
½ cup sugar,
½ cup of berry jam,
2 tablespoons butter,
1 cardamom seed,
Lemon peel, cavalry, buckwheat – to taste
Step 1.  Pour nuts with boiling water for 2 minutes, then dry, remove the thin peel and grind with a blender. Pour over a little bit of warm boiled water.
Step 2. Milk froth is prepared for the nut porridge. Pour milk into a flat dish with a thick bottom and put in a heated oven. Remove the resulting strong froth when they start to blush, folding them into a separate bowl.
Step 3. In the remaining milk, pour semolina and cook the porridge.
Step 4. Add to the porridge nuts, butter, spices and mix.
Step 5. In a form with high sides put a little semolina porridge, with foam on top, then again porridge. In the penultimate layer add a piece of jam.
Step 6. Bake in the oven. When serving, pour the jam and sprinkle with nuts.
Important: Daily, it is recommended to eat 30 g of nuts.
Back
Product number 4: Coffee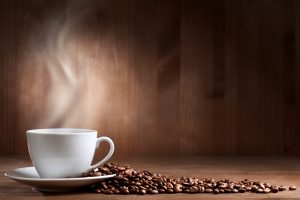 Drink stimulates the production of dopamine – it causes a sense of pleasure. Coffee performs the following functions:
increases concentration of attention,
helps to increase blood flow,
relieves fatigue.
Recipe: Caribbean coffee for better mood
In the Caribbean people prefer optimistic invigorating spices:
orange peel,
cinnamon,
vanilla and cloves.
The coffee mixture is prepared for every 4 teaspoons of ground coffee – half a teaspoon of grated orange peel, a quarter teaspoon of cinnamon, half a teaspoon of vanilla sugar and 1-2 buds of ground cloves. Mix thoroughly all the ingredients and cook the drink in the way you are used to. In this recipe, the main thing is the composition, not the way of preparation.
Important: It is recommended to drink no more than 2 small cups of natural coffee a day. The main thing is not to overdo it, because the effect can be the reverse: insomnia, fatigue, depressed state.
Back
Product number 5: Bananas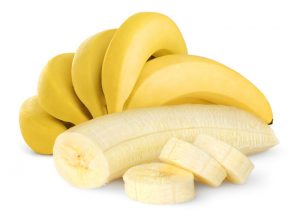 Excellent fruit – delicious, quickly satiating, and even immediately in the package. Under the yellow banana peel, there is a whole multivitamin anti-stress complex.
Bananas do make us more persistent in the face of life's hardships thanks to the unique combination of magnesium, tryptophan, B vitamins and potassium.
In a banana, there is almost everything necessary to increase stress resistance, reduce anxiety and improve intelligence.
Recipe: Banana-strawberry smoothie
Ingredients:
Strawberries – 400-500 g,
Banana – 2 pcs.
Milk – 500 ml
Sugar / honey – optional
Smoothies made of strawberries and bananas are incredibly tender. It is a thick, creamy, refreshing fruit drink that can be cooked in a few seconds from three basic ingredients. Cooked on the basis of fresh or frozen strawberries, milk and banana slices, the drink has an incredibly appetizing aroma, taste and smooth, silky texture that wins your heart from the first sip.
Step 1: Wash the strawberries and remove the stems.
Step 2: Peel and slice the bananas in small pieces.
Step 3: Cut strawberries and banana
Step 4: Place the fruit in the bowl of the blender. If desired, add 1-2 tablespoons. sugar (adjust the amount of sugar, depending on the sweetness of the fruit and your own taste preferences).
Step 5: Mix strawberry and banana in a blender. Whisk the ingredients for a few minutes until a smooth fruit smoothie is obtained.
Step 6: Add the milk and whisk again for 1-2 minutes at high speed.
Important: Chronic fatigue can be eliminated with a banana milkshake and a teaspoon of honey that will help you activate serotonin levels. Try it in the morning.
Back
Product number 6: Spinach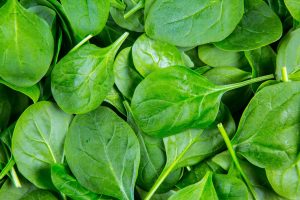 According to the American Journal of Public Health, fruits and vegetables not only positively affect physical health, but also psychological. Spinach is rich in folic acid, vitamin B, which affects neurotransmitters in the brain that control mood.
This herb contains:
potassium,
calcium and magnesium, which reduce the level of the stress hormone in the body.
Spinach contains 594 mg of tryptophan. Given that it is now quite easy to buy fresh greens of spinach, a "mood salad" must necessarily appear on your table.
Recipe: Spinach cream soup with croutons
Ingredients
spinach 200g,
cream 200 ml,
chicken broth 300 ml,
potatoes 1 pc.,
onions 1 pc.,
garlic 1 slice,
salt, pepper to taste
Step 1: Grind onion and garlic, fry with vegetable oil until transparent.
Step 2: Wash potatoes, peel, chop and add to onions.
Step 3: Then add salt, pour chicken broth and cook for about 15 minutes.
Step 4: Add fresh spinach and cook 5 minutes more. Pour in the warmed cream and mash the soup with a blender.
Step 5: Serve with croutons.
Important: Daily consumption of spinach in food helps to normalize sleep, improve mood, restore the nervous system.
Back
Product number 7:Brightly colored fruits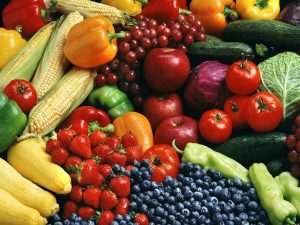 Juicy ripe fruit lifts the mood with its look. And it is the pleasure of their appetizing appearance, which, first of all, gives the effect of improving the mood. It is enough to take it in hands or look at the orange and you feel better. Color therapists say that orange color makes a person cheerful. Orange reduces appetite, and this contributes to a slim figure.
What does the orange fruit contain:
Retinol;
PP;
Vitamin C;
Thiamin;
Riboflavin.
We all can have hard busy days , when there is a lack of energy and presence of the spirit. To overcome these moments, try to cope with fatigue giving preference to natural remedies.
To improve your mood and provide yourself with a charge of vivacity for the whole day, you do not need to take pills or carry out any special therapy. You can learn to always keep natural resources at hand, which will help you to restore the energy reserve.
There are many natural products that help achieve mental balance and stimulate the body. You take advantage of an even more useful and safe product: a very tasty juice that you can drink throughout the day. Apple juice is the basis of this drink. It allows you to restore energy, alkalizing and purifying the body and contains a huge amount of antioxidants.
Recipe: Apple beverage
Ingredients:
1 liter of freshly squeezed or simply organic apple juice without additives;
1 lemon peel of organic lemon (Lemon peel contains more nutrients than lemon pulp, and has an alkaline effect, contains antioxidants and improves digestion. It also improves immunity, which is especially important in bad temper or severe fatigue).
peel halves of organic orange (Orange helps us to rejoice and improves mood, and also it is the best fruit that preserves and accumulates energy of sunlight. In addition, it is very useful for the immune system).
1 slice of fresh ginger (Ginger is very important for our health and stimulates, but does not overexcite the nervous system. In addition, it positively affects the metabolism, helps us to be active, to deal with stress, pain and inflammation and improves digestion).
1 stick of Ceylon cinnamon (It is an excellent stimulant and aphrodisiac. It is best to give preference to cinnamon from Ceylon – this is one of the best products that allows us to restore energy, rejoice and regulate blood glucose levels).
1 pinch of cardamom, (Cardamom is another spice with a very pleasant taste and aroma. It is also a powerful stimulant that helps improve appetite, protects us from mental fatigue and reduces stress and anxiety)
3 stars of anise (Anise is a natural stimulant that helps regulate the digestive system and removes excess fluid that causes a feeling of heaviness from the body.)
1 pinch of cayenne pepper (Cayenne pepper is a very spicy spice that speeds up the metabolism and allows you to replace energy costs. Do not forget to add it to food in small quantities and gradually increase its consumption if you tolerate it well.)
1 tablespoon of honey (25 g) (rich in vitamins and minerals and very nutritious. It is best to replace sugar and all other sweeteners with ordinary honey.)
To make this wonderful drink at home, which will fill your body with energy and improve your mood, you need to do the following:
Step 1: Heat apple juice with citrus peel and spices for 15 minutes.
Step 2: Leave it for 10 minutes, strain and add honey.
Important: Drink apple beverage cold or hot throughout the day between basic meals and good mood is guaranteed.
Video