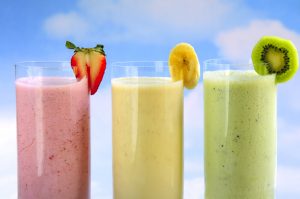 Protein cocktail is the most important component of the ration of sportsmen, but it can be drunk not only by athletes. Those who want to gain energy and control their weight are welcome to use protein cocktails as well, which are both useful and tasty.

It is not only a source of protein and complex carbohydrates necessary for effective training, but it is also indispensable for muscle growth and strengthening, helps recovery after training, helps to reduce muscle loss during fat burning. In addition, this cocktail is easily assimilated by the body and satisfies hunger well, and the result of its action is noticeable already in the near future after the beginning of use.
The intake of protein helps build muscle, forming a beautiful relief body. Protein cocktail can be prepared from a special protein powder, which is sold in sports nutrition stores. As a rule, such cocktails are not cheap, and they are used by professional athletes. Preparation of a nutritious drink is possible at home with the help of available products, and at the same time it is not difficult. Perhaps its effectiveness will be even higher as you will use only natural ingredients. Find out how to prepare a great cocktail on your own following the instructions below.

Contents
Recipe 1: Classic version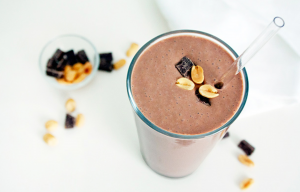 For this recipe you will need the following ingredients:
a glass of milk,
100 grams of cottage cheese,
1 banana.
Preparation:
Mix all the ingredients with a blender.
In case of its absence – rub cottage cheese with a banana and pour the milk, beaten with a mixer.
The cocktail is ready.
Advice: If the milk is poorly absorbed by your body, you can replace it with juice or kefir.
Recipe 2: Milk-Syrup Cocktail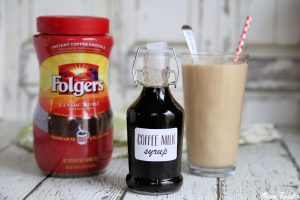 Take the following ingredients:
Cottage cheese (50 g),
A glass of milk,
1 egg white,
2 tbsp of syrup.
Preparation:
Pound 50 g of cottage cheese,
add a glass of milk,
add 1 egg white and 2 tablespoons syrup.
Stir well.
It is possible to make different variations here. For example, you can add 25 g of protein powder or milk powder, and replace the syrup with frozen berries or fresh fruit. Half of it should be drunk in the morning between breakfast and lunch, and the second part – between lunch and dinner. The use of a cocktail gives an additional 60-80 grams of protein per day in addition to regular food.
Advice: The daily portion of this cocktail should be 600-800 g.
Recipe 3: Banana protein cocktail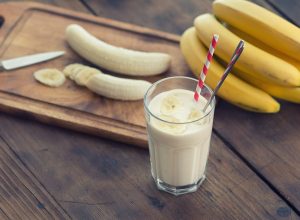 Such a drink is capable of provoking rapid weight gain with active physical activity.
Ingredients:
Milk – 0.5 liters,
Fresh bananas – 300 grams (1-1.5 pcs.),
Any nuts 30-50 grams,
Honey – 3 tablespoons,
Curd – 200 grams.
Preparation:
All ingredients are placed in a bowl for the blender and vigorously whisked for 2 minutes.
Then it is poured into bowls and drunk during the day in two meals.
Advice: The most suitable time for drinking this cocktail is between lunch and dinner.
Recipe 4: Milk protein cocktail with juices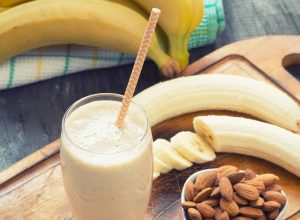 It's easy to prepare a milkshake. You need to have the following ingredients:
Sour cream – 200 grams,
Olive oil -2 tablespoons,
Egg yolk – 1 piece,
Orange juice – 150 grams,
Lemon juice (about half a lemon),
Fruits or berries.
Preparation:
All the ingredients, except lemon juice, are placed in a blender and vigorously whipped.
In the finished mass add lemon juice.
This drink contributes to a quality set of muscle mass.
Advice: Cocktail should be used an hour before exercise or as a snack.
Recipe 5: Cocktail with ice cream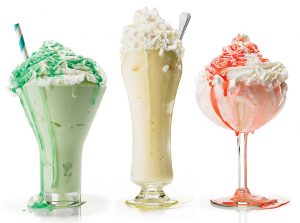 Lovers of sweet can try an unusual cocktail with the addition of ice cream. It is known that Arnold Schwarzenegger himself was engaged in the architecture of his body and often used this drink.
Ingredients:
Milk – 300 ml,
Milk powder – 3 tsp,
100 grams of ice cream,
1 egg.
Preparation:
All the ingredients are beaten in a blender or a mixer.
This drink is recommended to be consumed one hour before training.
Advice: This drink shouldn't be drunk often if you don't go in for sports at all.
Recipe 6: Strawberry milk cocktail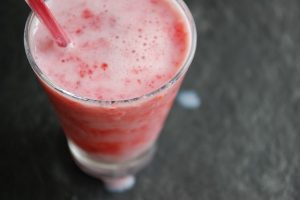 If you are actively involved in sports, then such a drink is simply vital for you! For its preparation, you will need the following ingredients:
200 ml of skim milk,
50 ml of freshly squeezed fruit juice,
100 ml of yogurt,
1 banana,
about 6 strawberries,
2 tablespoons of protein powder,
1 tablespoon of honey,
and a teaspoon of wheat germ.
Preparation: All the ingredients are whipped thoroughly in a blender. The cocktail is ready!
Advice: Prepare this cocktail if you do sports often. If not-then better choose some other lighter cocktail.
Recipe 7: Cocoa cocktail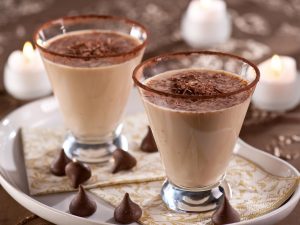 Ingredients:
1 scoop (ml) of chocolate whey protein,
1 cup of milk (low-fat),
½ cup low-fat homemade cheese,
1 packet of instant cocoa
Preparation:
You need to warm up the milk well, but do not boil it.
Pour the milk into the blender,
pour the protein, cocoa, add the cheese.
Stir until a homogeneous mixture forms.
Advice: Casein shouldn't be added for the reason that it is successfully replaced by home-made cheese, which contains casein, only in a useful natural form.
Recipe 8: Vanilla protein cocktail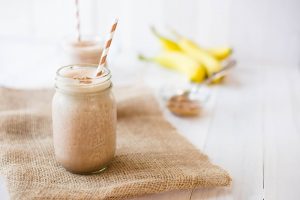 Ingredients:
casein with vanilla flavor,
1 scoop of vanilla whey protein,
½ cup of milk (vanilla),
½ cup vanilla yogurt (low-fat)
Preparation:
Protein and yogurt should be mixed in a separate cup.
The mass should leave a homogeneous, without lumps.
Pour the milk into a large glass and add there a mixture of yogurt and protein, gently mix.
Advice: Don't use a blender since the protein is already mixed with yoghurt. Stir with a spoon.
Recipe 9: Cocktail "Peach Fragrance"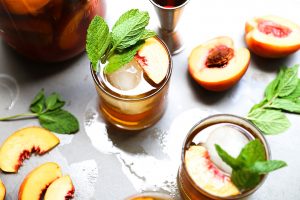 Ingredients:
vanilla whey protein,
1 cup of water,
1 packet of fast food oatmeal,
½ can of peaches, syrup clean
Preparation:
Mix all the ingredients in a blender until a homogeneous mass forms. Oatmeal will provide the body with fiber.
Advice: If raw oatmeal flakes are not to your liking, you can add a small amount of sweet cornflakes.
Recipe 10: Chocolate protein cocktail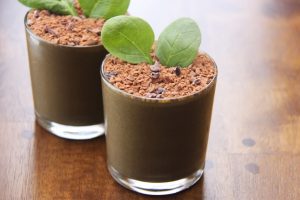 Variant 1: Ingredients:
1 m.l. whey protein (chocolate flavor),
1 cup of milk (low-fat),
½ cup almonds (grated),
½ crushed chocolate bar
Preparation:
Mix in the blender protein with milk.
Sprinkle grated almonds and chocolate crumbs.
Cocktail should be eaten with a spoon, as nuts and chocolate almost immediately settle on the bottom.
Take it before training.
Variant 2: Ingredients:
1 m.l. vanilla whey protein,
1 m.l. casein with vanilla flavor,
1 cup lemonade
Preparation:
Mix lemonade with protein in a tightly-sealed container.
Shake the container for better mixing of the ingredients.
To prepare this cocktail, it is best to choose not on sweeteners (aspartame), but on sugar. The fact is that the popular aspartame today has been found to interfere with muscle growth. Any sportsman should know that all diet-colas instead of sugar contain exactly aspartame.
Advice: Take the first variant before and the second one after the training.
Recipe 11: Energy protein cocktail for a press diet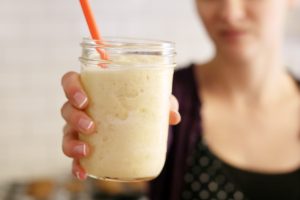 Ingredients:
1 cup of milk (1%),
¾ cup oat flakes (instant), soaked in water,
2 tablespoons vanilla yogurt with low fat content,
2 m.l. whey protein with chocolate taste,
2 teaspoons peanut butter,
6 ice cubes (crushed).
Ingredients: 4 g of fat, 29 g of carbohydrates, 12 g of protein, 3 g of fiber, 220 calories.
Preparation: Mix all ingredients and stir well.
Advice: Take it daily if you want to notice the result.
Recipe 12: Quick cocktail of champions
Ingredients:
200 g low-fat cottage cheese,
450 g yogurt,
a pinch of vanilla sugar,
7 tablets of sweetener.
Preparation:
Yoghurt, cottage cheese, vanillin and sugar substitute are dissolved in warm water and poured into the blender.
Mix and use 20 minutes before the day's workout.
Advice: You can use it regardless of the routine, everything turns out delicious and non-nutritious.
Recipe 13: Summer protein cocktail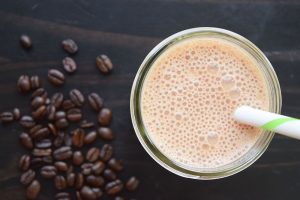 In summer you can make a great cocktail using the following ingredients:
1 banana,
2/3 cup frozen strawberries,
¾ cups of 1 percent milk,
2 m.l. vanilla whey protein,
½ cup of diced nutmeg melon,
120 g low-fat vanilla yogurt,
3 ice cubes (crushed).
Preparation: Crush fruit and mix with the milk and protein. Add a vanilla yogurt and mix all ingredients.
Advice: Use this recipe to refresh and get extra energy in summer.
7 Rules of Preparing and Consuming Protein Cocktails
The First
Preparing a cocktail at home, you need to observe some nuances that will allow you to achieve the greatest result in losing weight or gaining muscle mass. So, morning cocktails can be sweetened with glucose or honey, and in the evening, should consist of a minimum amount of carbohydrates.
The Second
Another secret is the temperature of the drink. The cocktail should not be cold! A warm temperature, about 37 degrees, can speed up the metabolism and work of your stomach. The volume of consumed beverage before training should be at least 300 ml. Caloric content of the cocktail is adjusted correctly, depending on the ingredients being added.
The Third
Protein cocktail should be consumed 30 minutes before or 30 minutes after exercise. Cocktail, drunk before training, provides the necessary energy and contributes to the increase in muscle mass. And its reception at the end of physical exertion restores strength and accelerates the process of synthesis of a new protein in muscles.
The Fourth
Do not drink it in one gulp, drink in small sips, savoring the drink.
The Fifth
Protein cocktail should not replace breakfast, lunch or dinner. Remember that this is just a tasty and useful addition to your food.
The Sixth
Recipes of cocktails are calculated on the person of average weight in case of a moderate training mode. With more physical exertion, the proportion of protein should be increased.
The Seventh
Remember that you shouldn't drink too much as an excess of protein can lead to gout and urolithiasis. The combination of proteins / fats / carbohydrates in your diet should be optimal.
Advice: The most favorable for the use of cocktails prepared at home, with the maintenance of those or other products.
How to Choose the Right Cocktail Depending on the Daytime?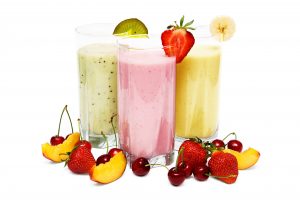 1. Morning
In the morning, the level of glycogen in the liver is reduced, because at night the body does not receive food for a long time. In principle, there is nothing wrong with this, the energy expenditure in a dream is minimal. On the other hand, active actions after awakening, together with a lack of glycogen, can provoke the secretion of catabolic hormones that corrode muscles.
To protect yourself, you can drink a protein cocktail upon awakening. It is necessary to add fructose to the protein, which is abundant in fruits and especially in honey. Unlike glucose, which gets into the muscles immediately goes to the expense, fructose is sent to the liver, where it turns into glycogen.
2. Before training
The intake of food before sports must supply the body with nutrients that help the growth of muscles and supply energy to the musculature. Therefore, you need both protein (20 g) and carbohydrates (40 g), preferably slow. In this case, ordinary dishes will not help. Firstly, it's hard to train with a full belly, and secondly, natural food is digested for a long time. In such a situation, it will be convenient to resort to a protein shake on whey protein.
When choosing carbohydrates, you should, again, stop on fructose. Fructose slowly gives energy and does not provoke the secretion of insulin, which at the beginning of the workout is not needed, since it lowers the level of sugar in the blood and prevents the burning of fat.
3. After training
After training, you have two tasks – to give the muscles more protein and restore glycogen. Of course, with the help of a protein cocktail, since the usual food does not fit out of the long assimilation. As a rule, whey protein (40 g) is recommended, but recently it was found out that this protein should be mixed with casein, muscles will grow better. Also need fast carbohydrates, at least 60 grams (candy, sweet buns).
4. Between meals
The bodybuilder needs to eat every 2-3 hours, which is very hard to do if you are not on vacation. Protein cocktails solve this problem, especially if you make a real cocktail with the addition of honey, fruit. Thus, it is possible to transform the trivial protein make-up procedure into a real pleasure. It turns out delicious and nutritious. The basis here may be casein, whey protein or a mixture thereof.
5. Before bedtime
During a night's sleep, the muscles are starving, so they should be properly prepared. The usual food to fill the stomach is not worth it, since in a dream digestion of solid food stops. And again, here is a protein cocktail. In this case, it is necessary to prepare it only on the basis of long-playing casein. It is acceptable to take carbohydrates, but in the minimum amount. During night muscles do not need energy, so excess carbohydrates simply turn into fat.
Video